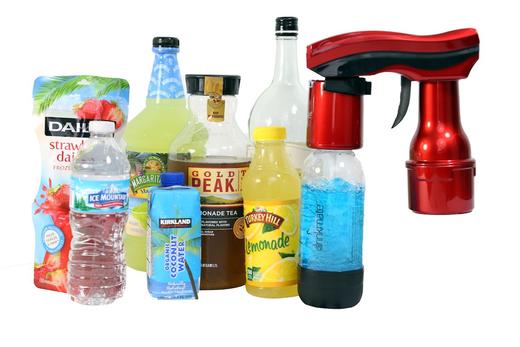 Make Your Favorite Drinks Fizzy!
Are you bored with your beverages? 
Is the trunk of your car full of seltzer and soda cans waiting to be returned?
Do you want to spice up your coffee without adding hundreds of calories and gobs of multi-colored whipped cream?
What if we told you that you can stay hydrated and add sparkle to your favorite drinks with Drinkmate, the specially engineered seltzer water maker that lets you carbonate just about anything?
It's true! Drinkmate can add fizzy fun to cocktails, mocktails, juices, even coffee. Yes, coffee! With Drinkmate on hand, you don't have to go out and spend a lot to enjoy the newest coffee trend. You can make coffee soda at home and experiment with flavors for an effervescent kickstart to your day. (Try adding a citrus twist or flavored sugar.) Drinkmate can also revive flat soda or beer. It can make any cold drink fresh and fun again. 
Drinkmate is fun and easy to use on any cold beverage. And it's eco-friendly, helping you break the can habit while you create your own fizzy drinks with the flavors and amount of fizz you prefer. If you pour it, Drinkmate can fizz it!
Choose your Drinkmate
Use Drinkmate at home or on-the-go. 
Our sleek Drinkmate original has a small footprint and comes in a variety of colors and kits for every kitchen, big or small. Everybody in your family can turn their favorite drink into a celebration in a snap. 
Or take Drinkmate Spritzer with you on-the-go to make your favorite drinks fizzy. Small enough to fit in a kitchen drawer, it's perfect for picnics, BBQs, or a lazy day on the lake. 
Order your CO2
Keeping the fizz in Drinkmate is easy. Just order CO2 canisters. We'll send you a pre-paid mailing label with all CO2 orders. Send the empties back to us to clean and refill, and we'll send you a rebate for your next order.
Fizz away; we've got you covered!
We believe in our products, and we back up every purchase with a 1-2-year warranty. 
Want to know more?
Check out these drink recipes on our site for healthy and fun beverage ideas you can create with your own seltzer water maker. We think that once you start, you won't want to stop.