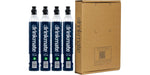 Drinkmate CO2 Supplies
If you experience any issues viewing this page, please ensure all Adblockers are disabled.
CO2 Supplies compatible with Drinkmate, SodaStream, and other machines in Canada- excluding machines that use 'quick connect' cylinders. Drinkmate carbonator cylinders come filled with certified food grade CO2. They are made of durable aluminum to TC standards. For Drinkmate CO2 MSDS information, click here.
FREE SHIPPING ON 60L CO2! (excluding Northern Provinces)
*Cannot ship via Canada Post, or to a PO Box. Ships via ground method only*
Have empty cylinders? Learn more about our easy & effective CO2 Exchange!